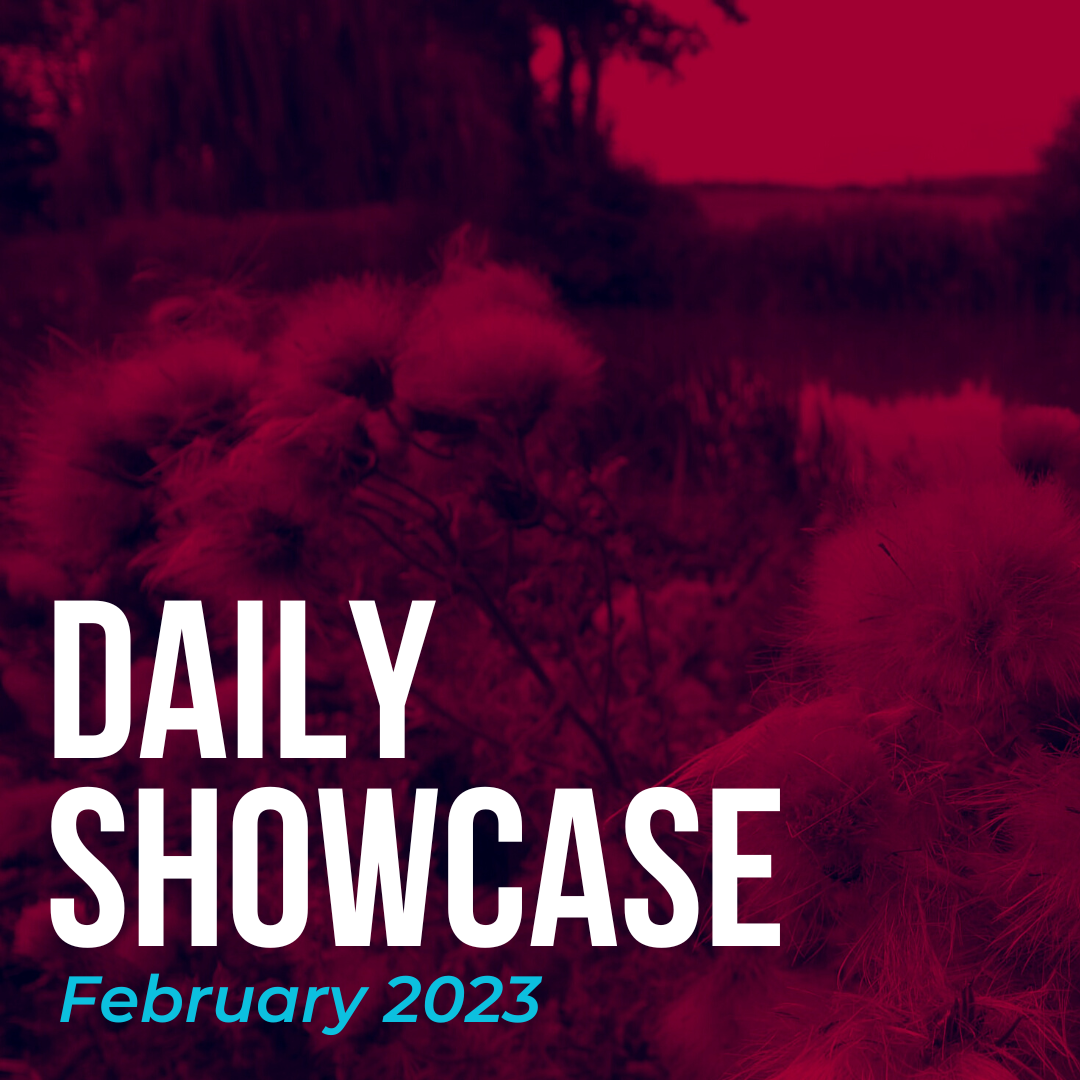 daily showcase
Daily Showcase Round-up
February 2023
- Follow along on Instagram
- Listen on Spotify
Welcome (back?) to a second month of new music in this round-up of an entirely Instagram-dependent format. I would say that it's not ideal to be at the mercy of anything with an algorithm, but frankly it's an inescapable reality of trying to gain an audience online -- the only option is to work with it and attempt to appease its artificial whims as best as possible. February has grown into a pretty reasonable month in that regard. Having been baited by the platform at the very beginning of the year with really good story reach, more than 80% of that reach had already been taken away by January 4th. It's been a slow process regaining those viewers, but the numbers have shown steady growth over the last month and recovered to approximately 50% of the mirage 2023 initially promised. I'm not convinced that March will continue the trend upwards, but here's hoping its numbers at least match the consistency of the preceding month.

As for the actual music, February saw dalliances with records out of the US (including via Kenya), Canada (including via Tunisia), the UK, Singapore, the Philippines, Australia, Ireland, Uruguay, Greece, Ireland, Czechia, Sweden, Finland, the Netherlands, and France, which, alongside Quebec, continues to offer a notable increase in Francophone artists on Bandcamp relative to what I've encountered in past periods of daily searching on the platform.

That observation might be a 'me' thing rather than anything that would ring true statistically, but I'm thinking I might sort out a comments section ready for next month so any fellow Bandcamp regulars reading these updates can pass comment on such reflections if they so wish.

Anyway, Bandcamp links (when available) for all the artists featured in February are below, and if you feel like delving into a new recommendation for a maximum of two-and-a-half minutes each day, come join the fun over on Instagram.
Bandcamp links: Ché Aimee Dorval UJU Franky Bones JUMAN Munknörr Thomas Abban Winmor Bumpy Mariko Lindsey Sampson banríon Bibione Dogheart La Battue The Degrees Wanja Wohoro Kate Brunotts Didon Stainwasher Robots! Attack! Nina Woods MeriTuuli Motifs The Hearted Arletis Sandrine St-Laurent Fuzzy Heart Siren
If Spotify is more your thing, check out the Daily Showcase playlist -- each selected album and EP has had material added to it (aside from the record by Nina Woods, which isn't currently available on the platform).